I have been doing a lot of shopping lately, and I figured it was finally time to round them all up in a post. Also, Hi! I'm officially back and attempting to get back in the swing of things with this whole "Blogging" thing.
There are a few products in very different categories that I have been loving lately, and I cannot wait to share them with all of you. I will try to link to what I can if you want to try it our for yourself.
I started using this foundation in January 2021 and wanted to give it a fair shot before I gave a recommendation. Clinique is a brand that I really think is overlooked in the makeup world. It was the first brand I used when I started wearing make up, and now it is my main brand that I use.
This foundation is super light weight, and is easy to apply to the face with brush, sponge, or fingers. According to Clinique's website, this foundation has a medium-to-full coverage with a satin matte finish with 24 hour wear. It contains Vitamin C and CL302 to help target dark spots, Hyaluronic acid to help plum the skins, an Salicylic acid to help smooth the skin. I have Combination Oily skin, and I can tell that his foundation is Oil-free. I also love that it cones in 42 shades, so it is super easy to find a shade that works for you.
I tend to use this foundation for everyday wear, but I have also used it for weddings and other special events. If you are in the market for a new foundation that is light for the summer, Be sure to give this a try.
If you are looking for a cross-body bag with a smaller profile and a ton of storage, look no further. I got this bag as an anniversary gift from my husband in August 2020, and I have used it more than I thought I would. As someone who has had a Louis Vuitton Neverfull for the better part of 10 years, I rarely reach for anything else. Once my daughter was born, I wanted something smaller that I could easily carry with a diaper bag, but was big enough that I could still carry Andrew's sunglasses and wallet around.
According to the product description, this bag is a compact camera bag rendered in soft leather with a double top-zip closure. It also features a removable, adjustable crossbody strap, three inside card slots, and an interior zip pocket. I love how the pebbled leather of this bag gives it a more relaxed look.
I have the bag in the Cement Multi color. The main color of the bag is they really pretty gray/brown with black sides, strap, and bottom. I am also a huge fan of the new Marc Jacobs "Double J" logo. This bag is currently on sale on the Marc Jacobs site. I could not recommend it more.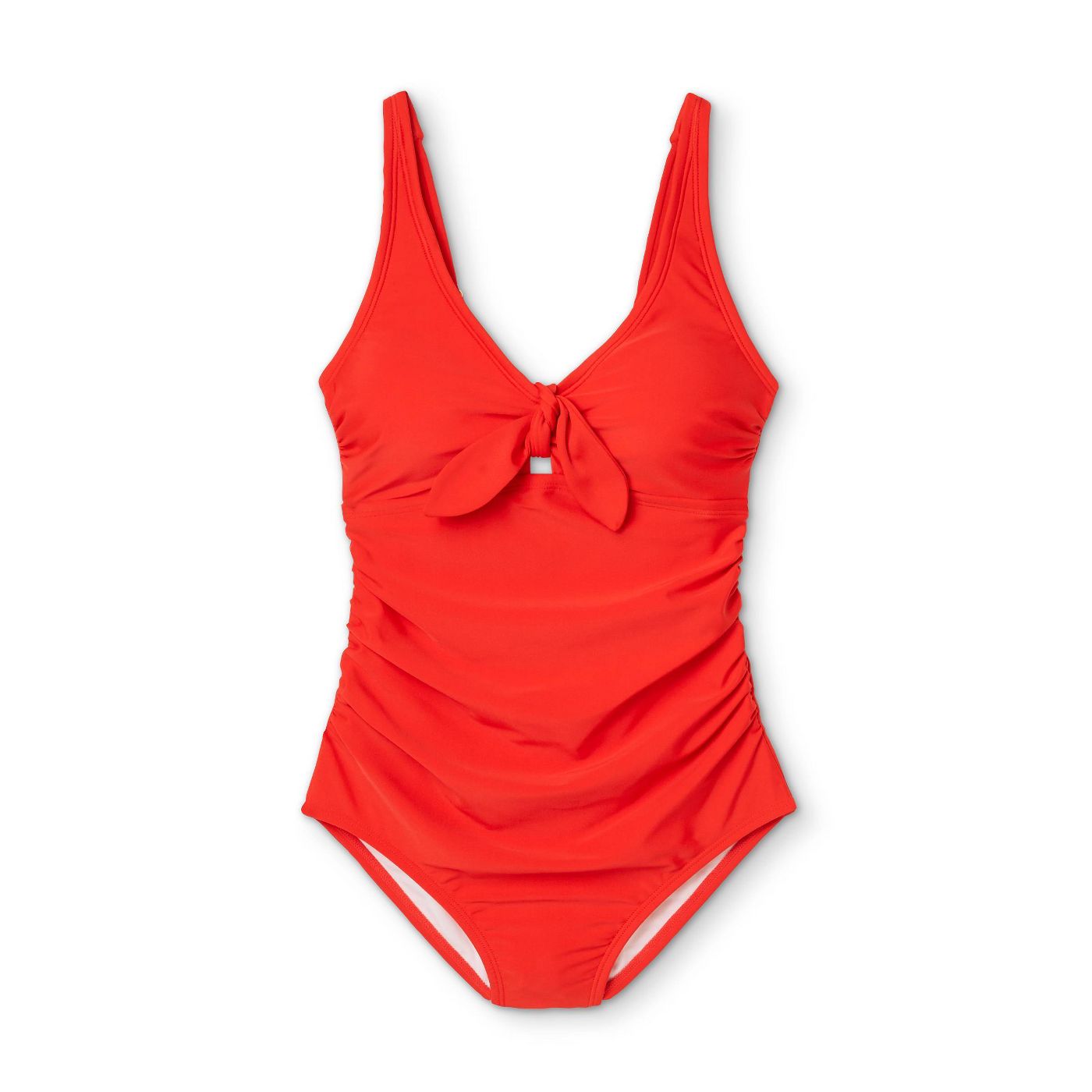 I was SO excited when I found this swimsuit at Target a few weeks ago. My old college roommate is getting married this summer, and we all get together for a "Tex-Mex" Bachelorette Party in Austin. We went on a party boat on Lake Travis, and the bride requested that all the bridesmaids wear either a red or blue swimsuit.
I had a ton of blue suits from my pre-baby days, but nothing really fits the same when your post baby body includes hips. I wanted something that I didn't have to worry about while we were getting on and off the boat. I loved that this suit has sewn-in cups and adjustable straps for all day comfort. Plus, the neckline with the tie-front showed off just enough cleavages to make this mama feel sexy.
Just for reference, I am 5'8″ and I wear a 38DD bra size. I purchased this in a XL, which is my typical size. I would say this swimsuit is true to size and extremely flattering on all body types.
If you are tired of having cords all over your room, this is the product for you. My brother-in-law got me this charging station for my birthday this year and I love it. Not only does if have the wireless charging pad for my phone, but it has an Apple Watch Charger, a dock my my AirPods (I have the first generation, but they also make a version for the AirPod Pros), and a dock for my Apple Pencil. This little station keeps all of my products organized while they charge, and it gives me much less clutter on my nightstand. My husband liked mine so much that he bought one for himself.
There are quite a few versions of this charging station on the market. They even have a version for the wireless charging AirPods as well.
Y'all, Amazon got me again on this one. My daughter has a Hatch sound machine that we love. We would rank it as one of our top baby items. Living in Texas, we have had a LOT of issues with power outages in the last six months (Thanks ERCOT). Having a baby that loves to sleep with a sound machine makes this difficult. Especially when you have the hatch version that doesn't have a battery back up. We were able to download a free white noise app to an iPad, but the timer on that cut off after eight hours (my daughter sleep 12 hours a night) and she would be in the dark with no light if she work up in the night.
After the third night of no power, I decided it was time to invest in a battery powered sound machine with a nightlight. I found this one with high reviews. I have to say, I'm impressed. We haven't used it through the night yet, but we were able to use it for naps while we were out of the house. My girl seems to like it, and I think we will be using it for many trips in the summer months.
If you have a child in diapers, RUN to get this product. This little diaper cream spatula has been life changing. Never again do I have to worry about how I am going to get my child dressed after applying diaper cream to her butt. With this product, you can literally squeeze the diaper cream directly onto the spatula and rub in on your child's rash. You can wipe it clean with a baby wipe. They have a full size one as well, but I loved the travel size option, It comes in a plastic travel case, and is easy to keep in your diaper bag or changing table.
I purchased two of these, and I have added it on as a "must have" item to the list I send out to friends who are expecting. It not only makes the whole diaper changing process cleaner, but it makes it faster as well.
There you have it! My first post in the Adding to Cart series! I really hope y'all enjoy these, and I hope to continue making them as time goes on. Be sure to comment below and tell me what products you are currently loving! I am always on the hunt for new, fun gadgets.